By Kira Jopp on Fri 24 September 2021
Effects Of Poor Indoor Air Quality in Schools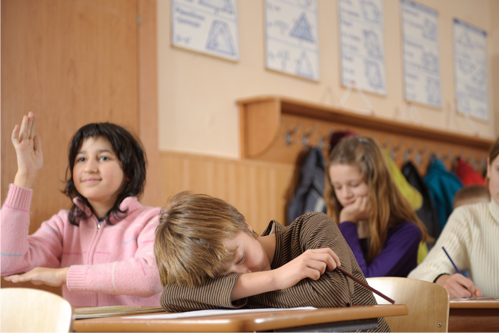 Indoor air quality (IAQ) has been found to negatively impact concentration and productivity levels within offices and classrooms. This issue is a particular problem in the UK, as thousands of schools are situated in areas with poor air pollution levels.
The UK has the highest rate of asthma prevalence in Europe and the effects are worsened due to air pollution.
We spend up to 90% of our time indoors but indoor air pollution can be up to 50 times worse than outdoors and contain up to 900 different chemicals and pollutants.
Over 3.4 million UK children are learning in an unhealthy environment – Clean Air Day, 17th June 2021
7,852 out of all 28,965 UK schools are located in areas which are above World Health Organisation's (WHO) air pollution limits for the pollutant PM2.5 - Clean Air Day, 17th June 2021
The main sources and health effects of particulate matter:
(From the BB101 Guidelines on ventilation, thermal comfort and indoor air quality in schools)
Outdoor Sources:
Industrial emissions
Road vehicle exhaust (especially at pickup and drop off times, and if the school is located on or near a main road)
Open fires
Smoking
Indoor Sources:
Heating appliances
Dry process photocopying machines
Cooking appliances

Health Effects:
Increased risk of cardiovascular diseases like:
Lung disease
Asthma
Bronchitis
Children are at increased risk to health effects as they breathe 50% more air per kg of body weight than adults!
Ventilation and indoor air quality requirements
In March 2014 the UK Government introduced 'BB 101: Ventilation, thermal comfort and indoor air quality' and was last updated in 2018.
Some of the standards includes:
In warmer weather, higher ventilation rates will often be needed to avoid overheating. There should be a bypass of heat recovery elements
Sufficient outdoor air should be supplied to general classrooms to maintain average occupied CO2 levels (see section 2.4 for more information)
Ventilation intakes need to be placed away from the impact of short-range pollutant sources (e.g., parking and drop off zones)
Recommended minimum local extract ventilation rates:
Type of Room

Local Extract Ventilation Rates

Rooms containing printers and photocopiers in substantial use (e.g. libraries)

20 l/s per machine

Sanitary accommodation and washrooms

15 l/s per showerhead/bath

6 l/s per toilet/urinal

Food preparation areas (not commercial kitchens or food technology rooms)

15 l/s

Specialist Rooms (e.g. science labs and food technology rooms)

Cooker hood required to remove the pollutants at its source

In these practical spaces, higher levels of CO2 are acceptable for the periods of time when Bunsen burners, cookers and other gas-fired appliances are in use.
Covid-19 has tipped the world upside down and left the staff and students venerable. Virtual learning was a blessing, but it is time face-face teaching became safe again. With masks not being mandatory in schools anymore (from 20th of January 2022) that extra barrier of protection is gone, ventilation is crucial for keeping people safe and creating a good indoor air quality.
To find out more about our classroom solutions or visit this link: IAQ in Schools (airflow.com) or check out our blog on the effects of poor air quality in schools.
Link to Government article on ventilation in classrooms: Ventilating classrooms to reduce the spread of Covid 19 doesn't mean pupils need to be cold – here's why - The Education Hub (blog.gov.uk)
Get in touch at: education@airflow.com