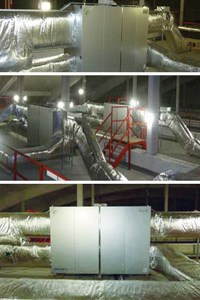 Science Museum Wroughton
Airflow Developments has placed their PassivHaus approved MVHR units into the new archive facility of the National Museum of Science and Industry near Swindon.
The low carbon structure, built inside an existing aircraft hangar, uses a range of natural materials including hemp and cross laminated timber to create a sustainable building. This air tight nature of the construction meant that the precious archive required stringent indoor conditions such as stable humidity and ambient temperatures 24 hours a day. To overcome this project managers, Lime Technology, turned to Airflow Developments for the solution.
After assessment it was decided that the needs of the building and its contents were best met by installing two of Airflow's Duplexvent Flexi DV3600 Mechanical Ventilation with Heat Recovery (MVHR) units. The system created a controlled indoor atmosphere in the self contained three story building, providing clean, filtered air at a stable temperature, while removing airborne pollutants, VOCs and potentially damaging moisture.
Another bonus of the Airflow's MVHR system is the ability for remote monitoring via an integral Internet connection, providing greater peace of mind that countless artefacts of scientific significance will be kept in a stable and reliable interior environment. Plus, as the only PassivHaus Institute certified commercial MVHR unit in the UK, it was ideal for the energy conscious and environmentally focussed archive facility.
Ian Pritchett, Managing Director of Lime Technology said of the installation: "The fact that the Duplexvent Flexi units were PassivHaus approved was a huge selling point as we had put considerable effort into ensuring the building was carbon positive upon completion and during its use. The additional benefit of remote monitoring meant we were also able to deliver a product that not only saved the customer energy but also provided peace of mind, this was especially pertinent given the importance of the items in the facility."
Tunca Sekban, Product Manager at Airflow Developments commented: "The client's specification to create a controlled environment within a sealed building, that itself is contained within the outer envelope of a disused aircraft hangar, was very interesting. The Duplexvent Flexi unit is perfect for the application due to its compact size, low running costs and high thermal efficiency exceeding 90%. The unique Motion-Blue control system with its internet based BMS control interface enables constant monitoring of the building conditions and system adjustment to regulate the indoor environment when necessary."