By Kiran Sagoo on Tue 29 November 2022
What ventilation systems are best for kitchens?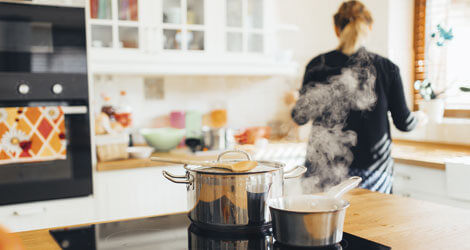 When considering ventilation systems, the kitchen is amongst the most important rooms to ventilate. Most of us cook every day and therefore steam and food odours are constantly present – meaning there needs to be adequate ventilation in your kitchen to eliminate the risk of mould, Volatile Organic Compounds (VOCs) and unpleasant smells lingering.
How do you ventilate a kitchen and what systems are best for kitchens?
The most basic way to ventilate a kitchen is to leave doors and windows open, however, this is no longer sufficient and new government regulations call for tighter ventilation rules and state that there needs to be a certain level of extraction.
The best kitchen ventilation system to adequately achieve the level of extraction stated by the government is either an intermittent extractor fan, continuous extractor fan or a cooker hood with an extractor fan built in installed in your kitchen.
If you chose to have an intermittent extractor fan, you're required to have extraction of 60L per second – this would only be needed if your kitchen has a recirculating cooker hood, or no cooker hood at all. However, many of us prefer to implement a cooker hood that extracts, and in this case, the intermittent extraction system in the hood would need to extract at 30L per second. On the other hand, if you chose to have a continuous extractor fan, extraction of 13L per second is required.
Regulations also state that noise levels need to be minimal and to help aid this all types of extractor systems need to be appropriately sized and fitted correctly by using resilient mountings. Installers also need to ensure they have correctly sized and joint ducts.
Moreover, MVHR is another way to ventilate your kitchen, but this isn't a government requirement. This is whole-house ventilation and therefore all rooms in the house are connected to one unit that provides ventilation to each room in the building. MVHR has become increasingly popular over the years and is a great energy-efficient way to tackle ventilation. You can find out more about MVHR here.
Note that extraction requirements for commercial kitchens are different and can be found in the Part F document for non-dwellings.
Why is it important to ventilate a kitchen?
Kitchens are hotspots for condensation build-up due to many sources of moisture and water vapour as well as food odours, smoke and VOCs from cleaning appliances. Dishwashers, kettles, tumble dryers, hobs and even taps produce steam and inject humidity into the air. And eventually, condensation will form as the steam comes into contact with a cooler surface, such as a window, ceiling or wall. From condensation comes dampness, mould and potentially, corrosion or wood rot – all of which can weaken structures or cause damage to a building. Toxins from mould and VOCs can also cause or contribute to health issues such as asthma and allergies.
Gases such as methane, carbon monoxide, carbon dioxide and nitrogen dioxide also come from the kitchen and are harmful to both people and pets, making the need for kitchen ventilation even more compelling.
There's also the issue of odours from cooking. As well as being unpleasant, odours will cling to soft furnishings like curtains, rugs and sofas.
Aside from all this, ventilating kitchens also contributes to comfort, particularly in commercial kitchens, where chefs are constantly around cooking chemicals and smells that can irritate your eyes.
It's evident that kitchens need ventilation, and we know picking the correct ventilation system can be difficult. If you are renovating or working on a new build project, our Selectair software can help you choose the right product. Alternatively, contact us and book a visit at our Air Academy or we'll direct you to our preferred partner who can assist you.