By Sophie Neaves on Tue 07 November 2023
World Ventil8 Day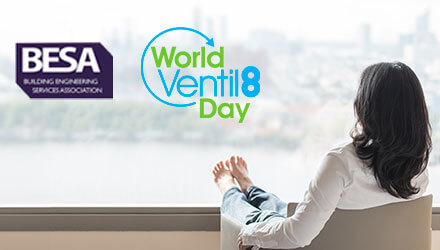 Wednesday 8th November is World Ventil8 Day. A crucial annual event created by industry-leading researchers and professionals, passionate about the positive impact that good indoor air quality and ventilation brings. Airflow is here to celebrate this day with you, by bringing the community together to help raise awareness.
The theme this year is "Breathe Better, Live Better; World Ventil8 Day", and as a supporter and an expert in this field, we want to shine a light on the health benefits of good ventilation. Because as we know, the ability to breathe clean air is essential for public health across the world, now and for future generations.
Created in 2022, World Ventil8 Day was born from the lessons learned in the pandemic about the importance of ventilation. Last year we saw great success, and this year we hope to increase that exposure and keep the momentum going.
Raising awareness of mould mitigation
For 2023, there is a strong focus on mould mitigation in the UK. The initiative has chosen to put a spotlight on this ongoing issue following the Rochdale inquest into the two-year-old who died from the effects of mould in their flat. Alongside the many more mould issues that go unresolved, particularly in local authority properties. We hope by highlighting the message of this campaign we can help make a change. Read more here about why mould is bad for your health and how mechanical ventilation with heat recovery (MVHR) can prevent it.
Why is ventilation so important?
Maintaining a healthy body and mind hinges on a healthy environment. COVID-19 taught us about the importance of ventilation, and since then, interest has grown about Indoor Air Quality (IAQ) and its impact on our well-being.
Traditional methods of natural ventilation through open doors and windows are no longer sufficient in many cases, due to airtight modern constructions and the presence of pollutants. Plus, open windows in cold weather are not ideal. In addition, the Government's new Building Regulations for ventilation aim to align with the UK's Net Zero target.
Both residential and commercial settings are vulnerable to various pollutants, like carbon monoxide, volatile organic compounds, allergens, odours and CO2. All with short-term and long-term health consequences, from shortening your lifespan to productivity and focus issues
Poor indoor air quality can cause immediate symptoms like coughing, sneezing, headaches, and allergic reactions that can be especially harmful to children and the elderly. Neglecting IAQ can lead to chronic issues like asthma, respiratory infections, cardiovascular diseases and cancer.
If you're looking into different types of ventilation solutions, we have a large portfolio of products and accessories; from MEV, d-MEV, and MVHR.
How to support World Ventil8 Day 2023
There will be various events, campaigns and coverage of World Ventil8 Day across the globe that you can follow and join. Spread the word and get involved by visiting WorldVentil8Day.com.
As a proud supporter of this global event, we are keen to raise awareness and highlight the benefits of good ventilation. We have a range of options that could help get your project started. Please don't hesitate to contact us to find out more.