By Sophie Neaves on Mon 20 November 2023
How can you retrofit to a Passivhaus standard?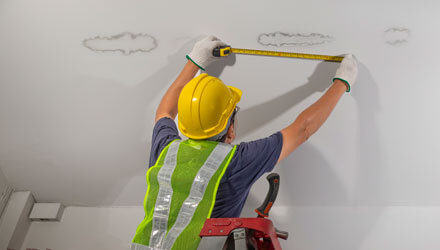 What is a Passivhaus retrofit?
A passive house building is one that meets the Passivhaus Standard. It will do this by being as energy efficient as possible and minimising its impact on the environment.
This differs from traditional houses, which actively affect the environment around them. Passive houses are intended to almost act like part of the natural surroundings.
Unlike traditional houses, they require very little energy for heating or cooling. Instead, clever design and energy-saving features create heat and avoid heat loss. Triple-glazed windows, high-quality insulation and near-complete airtightness are common in passive house buildings. And to ensure proper ventilation even in almost-airtight conditions, passive house buildings have mechanical ventilation systems with highly efficient heat recovery.
It's more difficult to implement such features in older properties – and they might not be as effective in reducing energy use. Doing this is termed a retrofit and while passive house principles work better when included from the blueprint stage, retrofits still save both money and energy.
This comprehensive Passivhaus guide has further information on what exactly a passive house is, including why it can be difficult to retrofit properties to Passivhaus standards.
What is retrofitting to a Passivhaus standard?
Since passive house principles are harder to achieve in existing properties, the Passivhaus Trust – which certifies passive house buildings in the UK – developed the EnerPHit standard. It relaxes some of the criteria, but meeting this standard still means that the building will usually outperform new builds for comfort and energy use.
Naturally, the more comprehensive a retrofit is, the better the end result will be. However, even implementing a few measures is worthwhile.
It's also important that you get the sequence of measures right, which means making careful decisions at the start of the process, just as you would with a new build. This way, you'll benefit from the full potential of the retrofit.
To maximise that potential and make sure work is carried out properly, it's vital to find the right contractor. Using their skills, knowledge and experience, they'll be able to:
Pinpoint restraints resulting from the building's history, construction, setting and use
Identify the necessary measures to achieve targeted improvements in energy efficiency and emission reductions
Make sure measures don't interfere with each other and reduce the overall effectiveness
Form plans that can be updated as the work proceeds and new products or technologies become available
The British Standards Institution has published comprehensive guidance for those looking to retrofit properties to passive house standards.
What are the benefits of a Passivhaus retrofit?
The obvious benefit of a Passivhaus retrofit is that the building will be closer to existing in harmony with nature. You'll be drastically reducing its impact on the environment.
For both individual homeowners and companies, this will obviously go towards reducing their carbon footprint. And when it comes to businesses, a Passivhaus retrofit can form part of a wider sustainability policy.
Of course, using less energy will also bring clear financial benefits, particularly when energy costs are high. Neither homeowners or commercial building owners will have to worry about the effect of sudden surges in energy costs.
Plus, passive house buildings are both more airtight and better ventilated, thanks to enhanced insulation and mechanical ventilation systems with highly efficient heat recovery, such as MVHR. This means they're less susceptible to threats like condensation, mould and damp. This isn't just beneficial for the fabric of the building, but also its occupants. Damp and mould can lead to respiratory conditions like asthma and bronchitis.
Poor air quality impacts health in many ways, causing or exacerbating allergies, respiratory issues or even cardiovascular conditions. However, systems like MVHR greatly improve the air quality by continually removing stale air and replacing it with fresh air.
How much does it cost to retrofit to a Passivhaus standard?
Since each building is different, costs will obviously vary. Some measures might not be possible in every building, which will reduce the cost of retrofitting, but also reduce the likelihood of certification.
Check trade estimates that retrofitting in the UK costs, on average, £2,150 per square metre. In a house measuring 150m2, the overall cost would be around £322,500. Added onto that, certification would cost £1,500.
The most cost-effective method of retrofitting is usually a "fabric first" approach. This begins with making certain the building fabric is in good repair, fixing any issues like damp, structural defects and poor pointing. This will give you a good foundation for subsequent energy efficiency measures.
After addressing the building fabric, obvious measures like energy-efficient lighting, shading for windows and enhanced heating controls come next. Then it's time to tackle insulation and airtightness, while maintaining a high level of ventilation.
The installation of efficient heating technology and responsive controls comes next: to meet the building's heat demand. Finally, you can optimise the building's performance by adding low and zero-carbon tech like ground source heat pumps, photovoltaics or wood pellet boilers.
All this work will cost more if the conditions make it a more complicated project, particularly if there are surprises along the way.
Why is retrofitting to a Passivhaus standard so challenging?
When constructing a new building, architects and designers have much more control over factors that help a building achieve Passivhaus standards. For example, they can decide upon a building's shape, orientation and the amount of glazing present. In existing buildings, these decisions were made long ago and often can't be changed, making retrofitting to a Passivhaus standard more challenging.
To keep complications to a minimum, it's vital that you enlist a highly professional contractor with expertise in Passivhaus standards. They should form a clear plan, outlining which measures will be taken first. This will smooth the process and ensure the best results possible.
Despite the time and money required to carry out a retrofit, once it's been completed, the energy savings offered will quickly become clear.